A new collaboration between Moncler and Pharell Williams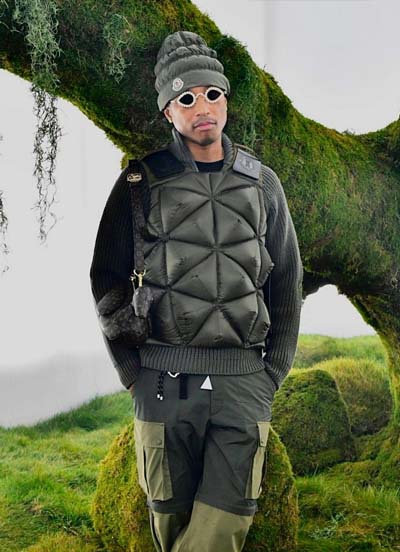 A launch is scheduled for September 20th, 2023, destined to excite all fashion enthusiasts and concerns two of the most beloved fashion houses of Galleria Cavour. In fact, the collaboration sees Moncler team up with the name of Pharrell Williams, recently new creative director of Louis Vuitton.
It is natural, therefore, that all the spotlights and eyes of industry insiders are focused on this sensational partnership. Through a camouflage invitation, currently reserved for very lucky chosen ones, the presentation of the collaboration was announced which will take place, on the occasion of the fashion week in Milan, at the Portrait, in the former Episcopal Seminary owned by the Ferragamo family.
This is another record-breaking year for Remo Ruffini's brand, as it broke the billion mark in revenues in the last six months. The success can be attributed to the quality of the product, always excellent, but also to the ability to intercept current trends and always create surprising collaborations with the most sought-after designs on the world scene.
In this regard, it should be remembered that it is not the first time that Pharrell has collaborated with Moncler: the latest project, in fact, saw his name appear among those of the stylists to whom the brand had entrusted the creation of a personal and new version of the iconic Maya jacket, on the occasion of the 70th anniversary of the maison.
The spokesperson for the campaign at the time was Tobe Nwigwe. It was only 2022, but in the fashion universe it corresponds to a geological era ago. Pharrell, in fact, had not yet risen to the role of creative director of Louis Vuitton (real twist of the season); so it is normal that, now, this collection takes on an even more sensational flavor, making the event in question one of the most anticipated of the entire fashion week. This is also why the details of the collection were revealed slowly: among the few certainties that have been leaked we know that, for the occasion, Moncler will leave room for Pharrell's name inside the historic rooster logo. We therefore just have to wait for the curtain to open on this partnership.