K-way and the collaboration with Comme des Garçons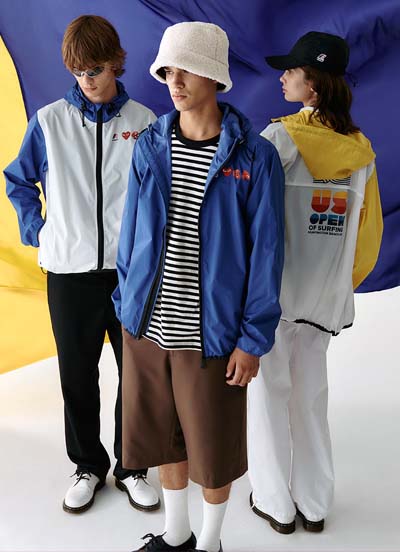 K-way is, in chronological order, the last of the prestigious brands to successfully land in Galleria Cavour. With the contemporary layout of its boutique, the captivating design of the line of trolleys and suitcases and its garments that are legendary at times, such as the raincoat of the same name, and capable of combining style and practicality, they immediately made it an iconic and highly sought-after brand.
But fashion, as we know, is always the result of research and experimentation. As proof of this, comes the news of a new collaboration which sees the aforementioned brand alongside another prestigious maison, Commes des Garçons, and which leads the fashion system to cross new boundaries, as often happens, landing, in this case, in the world of sport. From this unprecedented combination, in fact, a limited edition partnership was born for the World Surf Legue, the international organization that governs professional surfing.
The result is the creation of the legendary Le Vrai 3.0 Claude windproof packable jacket, revisited in three different colors (yellow, blue and white) and presented precisely on the occasion of the Us Open of Surf in Huntington Beach, California. Each of the three jackets features the K-Way logo and the three identifying hearts of PLAY Comme des Garçon. On the back, however, the symbol of the sporting event that catalyzes fans and surf enthusiasts stands out.
It is not the first time that fashion has conquered the world of sport, as the previous capsule collections of other prestigious maisons, also present in our commercial reality, have often demonstrated several times, but it is unprecedented to see the collaboration between two fashion houses which, like in this case, they embrace a common sporting faith. On the other hand, the universe of surfing par excellence brings to mind adrenaline, prowess and fun. So it perfectly embodies the spirit of both brands ready to demonstrate that you can be on the crest of the wave both on board a surfboard and in your own very stylish limited edition jacket.