Bottega Veneta: history of the Padded Cassette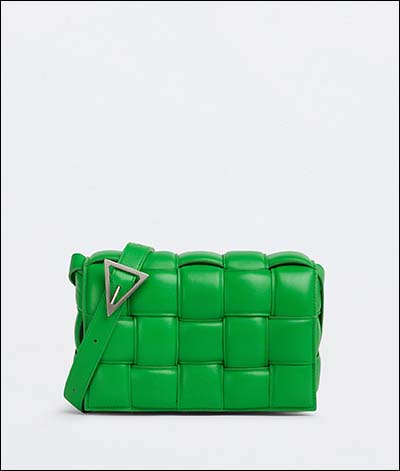 There are accessories that rise to symbol status and become synonymous with representation for the same maisons that produced them: this is the story of Bottega Veneta's Padded Cassette, in just a few years transformed into a cult object for any trendsetter who considers himself such.
First presented within the Pre-Fall 2019 collection, the bag encapsulates the soul and style of the Italian brand. In fact, the no-logo philosophy and at the same time immediate recognizability are fully expressed by the DNA of this iconic leather accessory. The clean, square lines, in the perfection of the geometries, enhance the unmistakable braided stitching technique, another legacy of the brand here impeccably described in its craftsmanship.
From the catwalks to social media, the Padded Cassette is credited with the responsibility and credit for combining the glossy luxury of Bottega Veneta and street urban style (an operation that is also very dear these days to another brand belonging to the Galleria Cavour stores: Louis Vuitton). The bag was born from the inspiration of former director Daniel Lee, who wanted to create an identity symbol capable of combining elegance and simplicity.
The bulge effect, on the other hand, is thanks to an innovative high-frequency heat-sealing technique that confirms how cutting-edge the brand appears to be in its leather processes. The end result is almost reminiscent of a pop artwork. No wonder, then, that in just a few years it has been seen everywhere, in magazines and specialized sites, swinging on the shoulders of the big names of the star system. The credit, perhaps, goes to its otherworldly design, and the reference to pop art is an obvious homage to the brand's long-standing ties with the art movement-just think of the short film "Industrial Videotape" that Andy Warhol shot about the brand and the assiduous frequentation, inside the New York boutique, of stars and personalities who revolved around the Factory.
Now that the artistic legacy has been entrusted to Matthieu Blazy, it was he himself who paid tribute to the bag through what seemed to all intents and purposes a declaration of love and a symbolic creative relay aimed at his predecessor Lee: the first outing that inaugurated his debut on the brand's catwalk saw a Padded Cassette appear, paired simply with a white tank top and a pair of jeans.
After all, who better than Bottega Veneta's new designer to know that to express itself, sometimes elegance needs no other elements than essentiality.