Louis Vuitton inaugurates the first collection for babies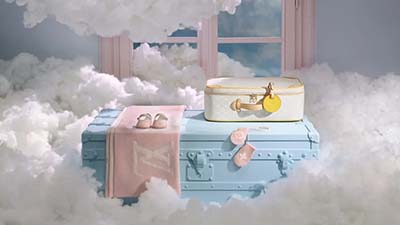 The first Louis Vuitton collection dedicated to newborns will be available from March. The maison, which has always drawn inspiration from the world of travel for its creations, has decided to look out towards new horizons, aware that perhaps life is the most exciting journey ever.
This is how this collection dedicated to the little ones took shape, which includes clothing, accessories and objects. The important news coincides with the inauguration of the new Italian CEO Pietro Beccari, fresh from his successes at Dior, who thus takes over from Michael Burke. The idea of dedicating a fashion line to the world of the little ones is linked to the historical tradition of the maison. It was in fact Gaston Louis Vuitton, member of the third generation of the family, who, around 1930, created a wing inside the Parisian boutique on the Champs-Elysées where it was possible to buy some toys branded by the group.
Even today, in the current reinterpretation, the glamour and class of the brand is present in every piece, starting with the Meli-Melo, the main motif that reinterprets the legendary monogram in a more casual way. The iconic flowers of the maison peep out on the leather perforations of the shoes, in a 3D version. The collection is all about the sweetness of memories and early experiences on the journey of growing up. Therefore, items appear for moments to remember and the most important milestones together with the first games, ready, one day, to become objects to be kept once you reach adulthood.
The privileged shades are those of pastel, with a preference for yellow. The sizes available range from 0 to 12 months and include rompers, coordinated sets, bodysuits, pajamas and coats. Particular attention is given to details: from mother-of-pearl buttons on cardigans, to embroidery and knitwear. The debut respects the guidelines of the LVMH group, which has long been committed to exclusive and increasingly sustainable fashion: therefore, the cotton used is organic; the cashmere and wool, as well as all the raw materials used, come from producers who certify animal welfare. After all, the fundamentals of fashion, as well as respect for the environment, are values that are learned from an early age.